Japanese doctors offer help treat hundreds of burn victims in Taiwan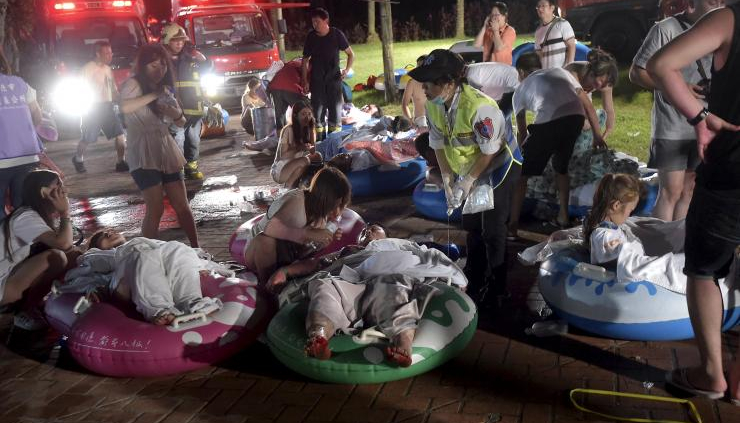 Japanese doctors offer help treat hundreds of burn victims in Taiwan
KYODO   JUL 6, 2015 
TAIPEI – Japanese doctors and nurses are offering to help their Taiwanese counterparts care for victims of the fatal flash fire that killed two people and left around 500 injured — including more than 200 in critical condition — at a water park June 27, Kuomintang legislator Su Ching-chuan said.
Su, who also heads the Taiwan Medical Association, said Saturday that his group and its Japanese counterpart, the Japan Medical Association (JMA), were ready to sign a memorandum of understanding to offer each other medical assistance in times of emergency.
After years of negotiations, the two groups had planned to sign the document at the end of this month, but the fire accelerated the timing, he said.
Su said that the memorandum would be mailed to Japan as soon as possible and that the JMA should be able to send a team of doctors and nursing staff to Taiwan as early as this Thursday if all goes well.
The move came after a JMA-funded information-gathering mission comprising Shigeru Suganami, president of the Association of Medical Doctors of Asia (AMDA), and Yoshihito Ujike, president of the Japanese Society of Intensive Care Medicine, arrived in Taiwan last Thursday at the initiative of the Taiwan Root Medical Peace Corps.
The Okayama-based AMDA has already asked Japanese manufacturers of artificial skin to make their products available to the many burn victims.
The accident at the Formosa Fun Cost Water Park in New Taipei occurred when colored powder sprayed onto a crowd of partygoers ignited, engulfing them in fire.
Health and Welfare Minister Chiang Been-huang said the ministry appreciates and welcomes the medical assistance being offered by other countries, including Japan and the United States. Although foreign medical personnel are barred from practicing in Taiwan, the ministry said Sunday that Japanese staff will be able to perform certain procedures under the supervision of Taiwanese doctors.
The Japanese team is generally expected to play a support role, such as by providing consultations and guidance and by getting medical materials ready.
Chiang said the Taiwan government is planning to sign emergency medical service agreements with as many countries as possible so they can provide each other assistance during catastrophes.
In addition to seeking help from Japan, Taiwan has placed orders for artificial skin from other countries, and some are offering to donate medical resources as well.
The ministry said the number of victims in intensive care has surpassed 270, with 230 listed as in critical condition.
Reference:http://www.japantimes.co.jp/news/2015/07/06/national/japanese-doctors-offer-help-in-treating-hundreds-of-burn-victims-in-taiwan/#.VZ0lKPmUcvx
https://wppf.org/wp-content/uploads/2015/07/taiwan-water-park-fire.jpg
494
740
admin
https://wppf.org/wp-content/uploads/2016/06/WPPF-LOGO-180x180.jpg
admin
2015-07-08 13:51:46
2015-07-08 13:51:46
Japanese doctors offer help treat hundreds of burn victims in Taiwan